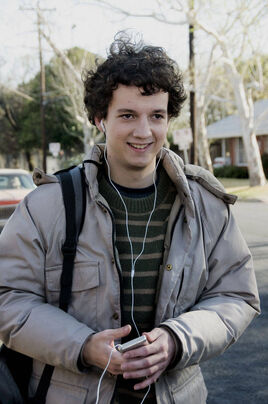 Will Burton
is the Manager of
I can't go on I'll go on
. when he moves schools and homes to New Jersey he meets
Sa5m
, a non-popular bookworm and becomes friends with her and then he meets
Charlotte Barns
, a popular head cheerleader and singer of I can't go on i'll go on and she gives him a job at the daycare center to help her out. Wills father got drunk everynight and one night he got drunk and ran over a little boy who was walking home from school, and will is living in his fathers shadow with the nickname Dwe he was given because of what his father did, but when he gets involved with I can't go on ill go on everyone starts to like him and even though they did not win David Bowie saw their performance in The Bandslam on the internet and emailed Will and he was SO happy and his Crush on Sa5m later became a relationship.
Ad blocker interference detected!
Wikia is a free-to-use site that makes money from advertising. We have a modified experience for viewers using ad blockers

Wikia is not accessible if you've made further modifications. Remove the custom ad blocker rule(s) and the page will load as expected.